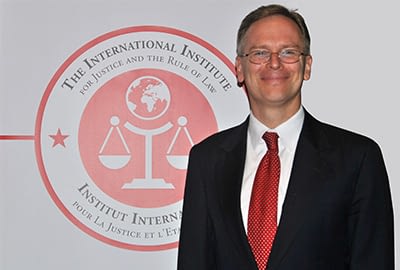 A First Anniversary Message from the IIJ's Executive Secretary
Today marks the one year anniversary of the establishment of the IIJ in Malta.  When the IIJ was inaugurated on June 18, 2014, the goals for the IIJ were both simple and daunting – to build a fully functioning international training institute for counterterrorism from scratch in Malta while at the same time, holding high priority programs for justice-sector practitioners from the outset and develop internally a curriculum of relevant courses to sustain the IIJ over the longer term.
Now one year in, and with over 450 judges, prosecutors, investigators, parliamentarians, and other criminal justice professionals and experts from more than 30 countries having already come to programs at the IIJ, we are well on our way to meeting the goals established at the time of our inauguration — holding practitioner-oriented programs that encouraged the adoption of good practices, such as those identified in the Global Counterterrorism Forum's (GCTF) Rabat Memorandum on Good Practices for Effective Counterterrorism Practices in the Criminal Justice Sector and other GCTF good practices memoranda.  Over the first year, these activities included programs directed at: combating terrorist facilitation networks; building informal and formal legal cooperation networks; combating kidnapping for ransom; fostering the rule of law while developing counterterrorism policies; supporting border security; bringing foreign terrorist fighters (FTFs) to justice; strengthening mutual legal assistance; supporting senior judicial officials in developing criminal justice responses to terrorism; inaugurating our own IIJ FTF series; hosting the GCTF Rule of Law Working Group Plenary Meeting; and developing a GCTF good practices for parliamentarians in the area of counterterrorism.  In the coming year, we will continue to develop our FTF initiative, partner with the Hedayah Center on how to reintegrate returning FTFs, expand our parliamentarian good practices initiative, develop programs focusing on the judiciary and judicial training centers, start programs to address the use of intelligence and non-coercive interrogation techniques, address juvenile justice in the counterterrorism context, and continue to expand and refine programs we started this year.  Individual summaries of IIJ programs and activities over the past year are available on the IIJ's website (www.theiij.org), and you can now also follow us on Twitter (@ iijmalta).
Our staff has grown from one person when we started (just me) to a highly motivated and creative international team with seven new talented members, each representing a different country!   This growing expertise has allowed us to increasingly develop programs internally as well as ensure that the IIJ can remain a platform for international programs developed by our partners.  Through our partnership with the University of Malta, we have the capacity to hold IIJ training programs of up to sixty participants in two different large conference rooms as well as a number of small breakout facilities.  At our inaugural board meeting in October, our Governing Board of Administrators adopted by-laws and written personnel, financial, inventory, and procurement policies that put the IIJ on a firm administrative footing.  We are supported by an international accounting and audit firm (Deloitte) and a respected Maltese law firm (Mamo TCV).
We remain grateful for the generous support through financial grants from the United States, the European Union, the United Kingdom, and Switzerland, secondments of experienced justice professionals from Turkey and the United Kingdom, in kind support and advice from Malta, venue support for IIJ-related programs held outside Malta in Morocco and Algeria, visa support from Malta and France, and the assistance of other IIJ members through a variety of other means.  We especially welcome the European Union to the IIJ, whose membership was unanimously approved last month by our founding twelve members.
None of this success would have been possible without the active guidance from the IIJ's Governing Board of Administrators, support from our IIJ partners and our local IIJ member embassies here in Malta, and, of course, the dedicated work of the IIJ's committed staff, for which I am personally most appreciative.  After a very busy first year, the whole team is enthusiastically looking forward to an even more productive second year of new programs, new partnerships and further growth.
Robert Strang