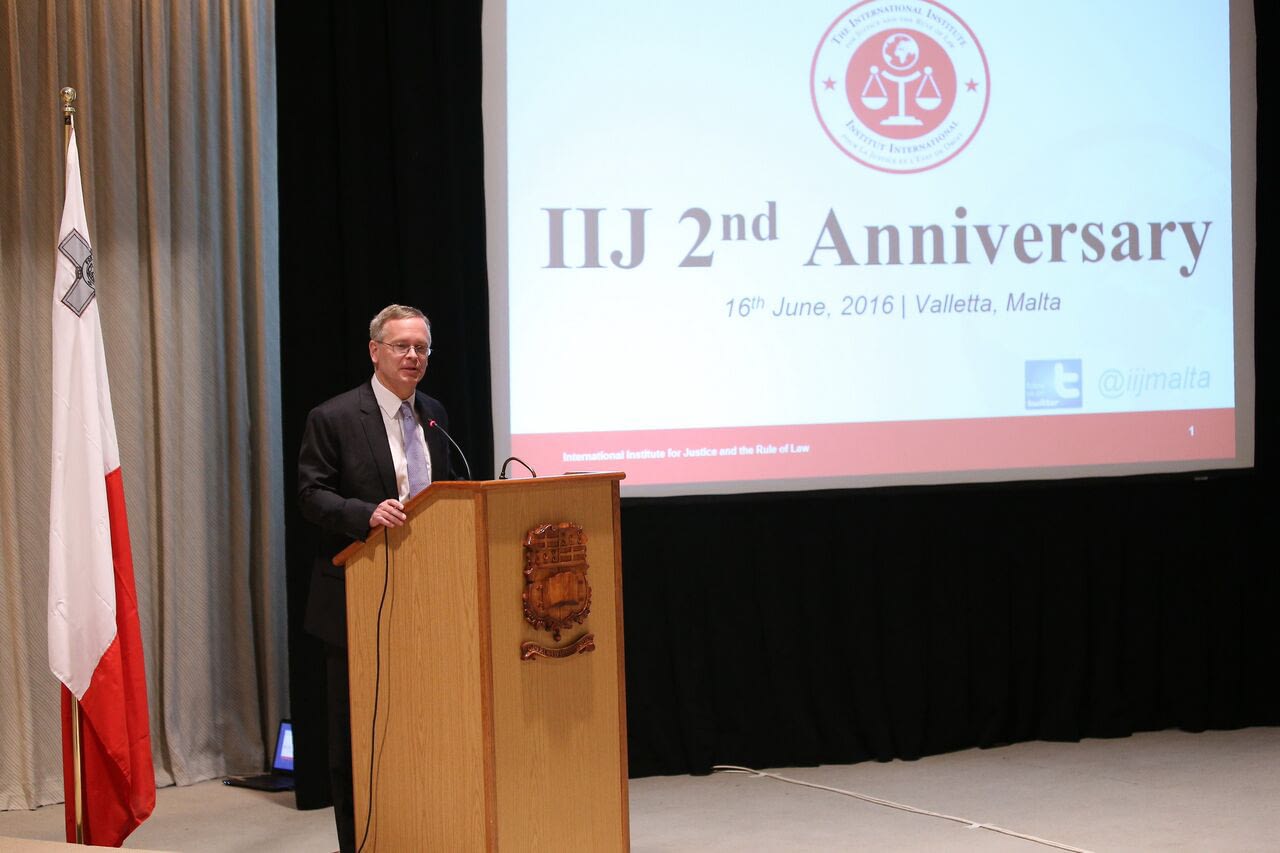 Second year anniversary of the International Institute for Justice and the Rule of Law
This week marks the second year anniversary of the establishment of the International Institute for Justice and the Rule of Law in Malta and we are delighted to host a celebratory reception with the international community here, keynoted by an address by H.E. Dr. George W. Vella, Minister for Foreign Affairs of Malta.
When the IIJ was inaugurated on June 18, 2014, the goals for the IIJ were to build a fully functioning international training institute for counterterrorism. Now two years in, and with over 1000 judges, prosecutors, investigators, parliamentarians, and other criminal justice professionals having participated in over 50 international programs, the IIJ has succeeded in becoming an internationally recognized hub for rule of law based training and capacity building activities for justice sector practitioners primarily from North, East, and West Africa, the Middle East, and the Balkans in the area of counterterrorism. Our programs and workshops are taking place both inside and outside of Malta and address the following eight broad thematic areas: investigation, prosecution and adjudication of terrorism cases; judicial training and judicial training centre networks; international mutual legal assistance and central authorities; criminal justice approaches to Foreign Terrorist Fighters; comprehensive approach for rehabilitation and reintegration of returning Foreign Terrorist Fighters; parliamentarians in developing effective counterterrorism regimes; juvenile justice in a counterterrorism context; and prison management and the prevention of further radicalization in prison. A week rarely goes by now without some kind of event happening here in Malta, and on our busiest days we have programs running simultaneously.
Our work has been recognized by the Global Counterterrorism Forum (GCTF) and the United Nations. Individual summaries of IIJ activities over the past year are available on the IIJ's website (www.theiij.org), and you can now follow us on Twitter (@ iijmalta). The need for the programs offered by the IIJ is greater than ever, and we continue to try to rise to the new challenges that are being posed in the region and beyond.
We are highly gratified by the growth and expansion of the Institute. We have assembled an amazing and highly motivated team of 11 staff members from 8 countries. We are currently implementing grants from the European Union, the Netherlands, Spain, Switzerland, Turkey, the United Kingdom, and the United States. We are also strengthened by secondments of experienced justice professionals from Turkey, the United Kingdom, and the United States. We further receive valuable in kind and administrative support and advice from Malta and other IIJ board members. We benefit from close partnerships with a host of international, national and non-governmental organizations on specific workshops and broader initiatives, as well as from new partnerships with national training centers and other organizations that we have developed over the past twelve months. The diverse group of supporters has been a strong vote of confidence in the quality of the programs we deliver.
The IIJ continues to benefit from offering a practitioner focus in a neutral learning environment where counterterrorism topics can be discussed in a constructive manner. Through our partnership with the University of Malta, we have the capacity to hold IIJ training programs of up to sixty participants in two different large conference rooms as well as a number of small breakout facilities. Our location in the Mediterranean is well accessible for participants from across Africa, the Middle East and other regions.
If you have not yet come to Malta, it might be time to visit! We are changing and growing every day, and we invite you to be a part of our continuing development.